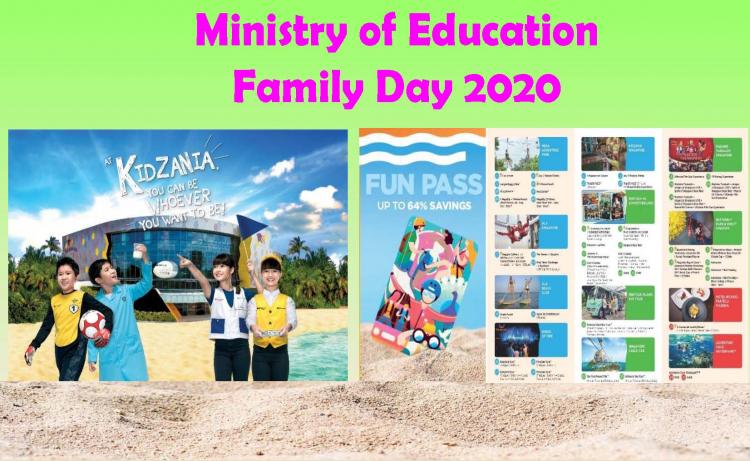 Special Corporate Rates for KidZania and Sentosa Fun Pass 55 Tokens Tickets
Temporary Suspension of Registration Until Further Notice
As part of MOE staff well-being programme under OLive, for MOE Family Day 2020, MESRC would be offering special Corporate Rates for KidZania and Sentosa Fun Pass 55 Tokens' tickets purchase for family bonding.  These tickets are open-dated and valid for 6 months from 1 July 2020 to 31 December 2020. Staff who purchase Sentosa Fun Pass 55 Tokens can use the ticket over two days. Please note that there will be no extension of dates and no refund if tickets are unused after the expiry date. Collection of tickets will be notified to participants later once registration closed on Thursday, 30 April 2020 or earlier while tickets last.    
Online registration for the MOE Family Day starts from Monday, 2 March 2020 and closes on Thursday, 30 April 2020 or earlier while tickets last.

Each staff is allowed to purchase a maximum of 8 tickets, maximum of 4 tickets at staff rate and 4 tickets at guest rate for KidZania and/or Sentosa Fun Pass 55 Tokens.

HQ divisions and schools may also use this opportunity to organise staff bonding day for their staff. Registration can be done under Group Registration and payment via NFS (HQ divisions) or IFAAS (Schools) Transfer only and capped at 50 pax for each school or division. No family members or guests purchase under this category. There should be no credit card payment for group registration. 

All registration must be by MOE staff or MESRC Associate or Corporate members. 
Temporary Suspension of Registration Until Further Notice